Posts Tagged 'Mark O'Mara'
"The case has been compromised from the beginning. When Sanford police arrived on the scene, Zimmerman was first approached by a narcotics detective — not a homicide investigator — who "peppered him with questions" rather than allowing him to tell his story without prompting." ColorofChange.org
Actually, George Zimmerman was not questioned at the scene.  He was taken to the police station within 30 minutes of the shooting.  The above is just one of MANY tall tales put out by the media via Crump, Jackson, Sharpton, and even Tracy Martin himself to try and incite hatred for the Sanford Police Department, and divide the races, once again, in the name of justice and million dollar civil judgments, oh, and modification of the Stand Your Ground Law for Democrats.
After George Zimmerman shot Trayvon Martin, he quickly moved from beneath Trayvon's body, and according to at least one witness, straddled him and was checking him out – for what, is unclear. Witness #15  –  Selma Lamilla, said she walked outside after the shot to ask what was going on.  She said GZ did not answer her until the third time she asked.  "Call 911″, George said, and started walking around holding his head as if he were in shock, couldn't believe what had just happened.   I have a couple of problems with this witness account.  One, I don't know a woman, or many men, who would walk outside after hearing a gunshot and ask the guy over the dead body if everything is ok.  Second, George had his phone, and from what I understand, called 911 himself.  The third problem with this account is the fact that Mary Cutcher and her roommate didn't want to get involved when initially approached by police officers.
911 calls recorded the gunshot at approximately 19:16 hours, the first officer arrived on scene at 19:17 hours.  Some time lines show only a five second window between the shot and the first officer arriving on the scene.  Witnesses said Zimmerman was walking up and down holding his head.
On 2/26/2012, at approximately 19:16, officers were being dispatched to 1231 Twin Trees Ln, Sanford, Florida.  
Officer Smith was the first to arrive at 19:17.  George had holstered his weapon, a  Kel-Tec 9mm,  holding his hands above his head.  A person with a concealed handgun permit knows to either put the gun on the ground and shove it a few feet away, or holster the gun and raise their arms.  They are always to let responding LE know they are armed.  George did exactly what he was supposed to do.  He told Officer Smith, who was approaching GZ with his gun drawn, that he had just shot the male on the ground and that his gun was holstered within his waistband.  Officer Smith retrieved GZ's handgun and secured GZ in handcuffs.
Some, apparently not familiar with crime scene protocol in the case of a shooting,  have criticized Smith for not immediately doing CPR on Trayvon.   Imagine the danger Smith would have put himself and the rest of the community in if he had left an armed man standing by, with his back turned to him, while he performed CPR on the victim.  One would not even have to have knowledge of protocol,  common sense would suffice.  Securing the shooter is always top priority.
Smith, while removing GZ to his squad car noticed the back of George's jacket was wet and had grass on it.  He also noted GZ had a nose bleed and was bleeding from the back of his head.  Paramedics attended to GZ in the squad car.  They reported everything from minor cuts to a cut severe enough to require stitches.  Smith overheard GZ say he was calling for help, but no one would help him.  Zimmerman declined going to the hospital.
Another officer on the scene, Officer Wagner, walked over to the squad car and used his iPhone to take a picture of Zimmerman's face.  He noted that it looked as though Zimmerman's nose was broken and bloody, and there was blood on the back of his head.  He was transported to the SPD station.  Another misconception I've read is that if GZ were really hurt, they would have MADE him go to the hospital.  This is not true.  It is our constitutional right to refuse medical attention.  Unless we are unconscious, or too hurt to know our own name, our rights in this regard must not be violated.  Once at the station, Zimmerman's gun was placed into evidence.
Al SHARPTON,  MSNBC (3/21/12) What's even more appalling, not only did they not make an arrest, they let the guy go with a gun, with the murder weapon. "You can go." And they start becoming his defense spokesmen."
"This man was able to shoot and kill a kid and then walk away with his gun." - Rep. Emanuel Cleaver (D-Mo.)
Officer Ayala arrives to the scene at 19:17 hours, within seconds of Officer Smith.  After being apprised of the situation, Ayala started CPR and was joined shortly thereafter, by Officer Raimondo, who assisted him – there was no response.  Sgt. McCoy arrived on scene and tried to revive Trayvon as well and was met with the same negative results.  Finally, at 19:30, the SFD pronounced Trayvon dead.
Photo of a covered Trayvon after being pronounced dead.    Crime Scene Photo 
 All rights reserved by jeandodge67
 "They didn't even bother to put yellow tape around the murder scene when he died, That's how much the police did to find out what happened to this young boy."  - Jesse Jackson
Crime scene personnel began securing the scene and a contamination log was started.  Tryavon's cell phone was recovered from the scene and one of the officers tried to have a celeabrite device download the information in an attempt to identify the victim.  The battery was wet and the device did not work.
"…they never even picked up his cell phone to call the numbers to find out who he was…" Al Sharpton, MSNBC 3/20/2012
Officers Wagner and Mead canvassed the area for witnesses.  Mary Cutcher was sitting on her back porch, watching the activity around the crime scene.  When Officer Mead asked if she'd seen anything, she said "No, but my roommate did".  When asked if MC thought the roommate might provide a statement, MC said she would look for her.  A few minutes later, Mary Cutcher wrote her roommate's statement for her due to a language barrier.  The statement was given to the officer.
Homicide Detective Serino arrived on the scene at around 20:00  hours.  He assisted in photographing the scene while waiting on ME to arrive.  He and another officer re-interviewed several witnesses.
Seven 911 calls were made that night, including George Zimmerman's 911 call.  The rest were made by ear and eye witnesses.
Witness 11 – Upstairs, hears gunshot.  Tells someone named Jeremy to get back in the house.
Witness #3 – During the 911 call she stated she saw nothing.  She heard screaming and gunshots behind her house.  The dispatcher assures the woman there are several officers there.  At the end of the call she sees a man with a white tee-shirt over Trayvon.  ** I believe this was an officer, which would solve that mystery.**
Witness #6 - When he first walked outside, the Black guy was on top while they were wrestling. He could tell this because the guy on the bottom was a lighter color. The witness was looking out the window and yelling out the window telling them to stop. After the incident, he saw other people out there with flashlights. The guy who had been previously on top was lying face down in the grass. The one who had been on the bottom had his hands in the air. The guy who did the shooting said, "I shot the other guy in self defense. My gun is on the ground." ** This witness eventually changed his story a bit. **
Witness 13 - The witness, 13 yr. old Austin Brown,  states he saw someone lying on the ground who couldn't get up. He was outside while walking a dog. The person on the ground was yelling "help." He says he only looked for a few seconds and only saw one person. He didn't see how it happened. He didn't see why he was yelling for help.  He only looked for a few seconds and saw only one person who was on the ground–nobody else.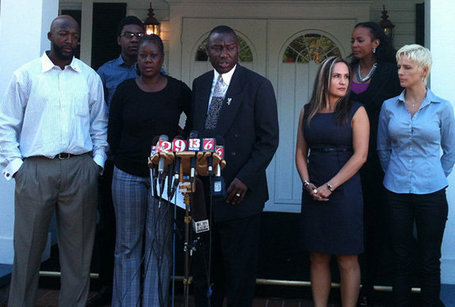 No witness tampering here – Witnesses #5 & #16 with Crump, Jackson, & Martins
Witnesses 5 & 16 - Mary Cutcher and Selma Lamilla – She says she thinks someone's been shot.  People are coming with flashlights.  Someone outside said call 911, call 911.  Two or three times she tells "Selma", her roommate to get inside.  She sound afraid.  ** She said nothing about going outside and talking to GZ or hearing moaning/crying, just a gunshot.   Another note, this witness sold her story to the National Enquirer. **
Witness #18 – Someone yelling and screaming help, she heard a pop noise.  This woman was very distraught.  She sees the men with flashlight.
Witness 19 - Heard a shot and immediately called 911.  She was worried about an elderly man living a few homes away from her.  Someone walking around with flashlight.  Units arrived while she was on the phone.
Case documents for reference to the above.